~ Ellison at his swearing in ceremony (reuters)
Exclusive for ImpeachforPeace.org by Mikael Rudolph
Four members of
ImpeachforPeace.org
met with the Honorable
Representative Keith Ellison (D-MN 5th)
in his Minneapolis offices Saturday morning, April 22nd to discuss the impeachment of President George W. Bush and Vice President Dick Cheney.
Early in the meeting, Ellison made clear that his opinion hasn't changed since he introduced a Resolution for the impeachment of President Bush as a Minnesota State Legislator by saying: "Impeachment should be on the table".
In Washington D.C. attending sessions of Congress during the week, Ellison regularly travels home to be with his wife Kim and four children each weekend, taking some time to meet with his constituents as well.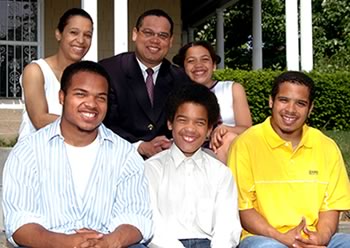 ~ from the Ellison Campaign Website
Running a bit late, Ellison explained that he had just gotten a haircut because he "wanted to look good for our meeting", turning his head side to side to show off his barber's work. One member of IFP quipped: "It was well worth the wait".
As everyone settled into their chairs and the laughter subsided, the mood quickly grew more serious as the topic of Ellison's vote for the
Veterans' Health & Iraq War Accountability Supplemental
was discussed, which some in the local and national peace movement felt was a betrayal of Ellison's commitment to seeking an immediate end to the Iraq War. A sharply critical letter from an IFP member not present was read and a framed graphic called "The Impeachment Casualty Candle" was set up on the table as a reminder to everyone present of the ultimate price already paid by so many of our troops and the high stakes still facing many American families, not to mention Iraqi families: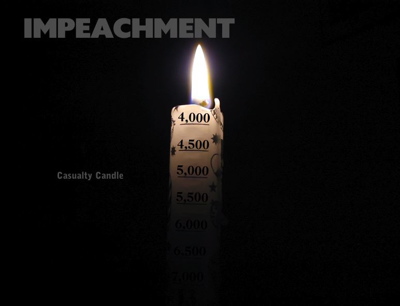 ~ Graphic courtesy Sgt. Daniel Fearn, "The Impeachment Grunt"
(IFP website reader's responses to his vote on the 'Supplemental' can be found in the comments following this article of March 27th, 2007:
War Critic Rep. Ellison (D-MN) Explains 'Yes' Vote on War Funding Supplemental
)
Ellison heard the criticism and handled it well, acknowledging and empathizing with the frustrations and anger of those who want the war over and our troops home immediately yet he made it clear that many in the Peace Movement had communicated to him that they understood and supported the strategy of confronting and isolating what even
the President's own Intelligence Agencies have identified as failed Iraq policies
by passing a bill with a plan to end the war at some point.
Ellison called
House Speaker Nancy Pelosi (D-CA)
who had gathered just enough of a consensus among fellow House Democrats to pass the measure, "a remarkable leader" who is quickly proving herself to be a gifted "cat herder" of the various caucuses in the Democratic Party.
The topic quickly shifted to impeachment, with Rep. Ellison affirming that he is "with the impeachment movement", yet making clear that in order for him to consider supporting impeachment hearings, the charges spoken into the Congressional Record must be strongly grounded in verifiable facts and evidence as well as understood by and backed by the majority of the American people.
Not eager to be assailed by the radical right's bevy of partisan media shills as "the poster child for loonie leftists", Ellison said that the most important thing he and his fellow members of Congress need from constituents is that they "keep the drumbeat up" for impeachment.
Ellison named fellow Representative
Dennis Kucinich (D-OH)
as "a good friend", saying "we talk every day" during the week in Washington. With Kucinich reputedly poised to introduce
Articles of Impeachment against Vice President Dick Cheney
this week, Ellison was measured in his commitment to join Kucinich. He made clear that he was supportive of the idea, but not if it only becomes a symbolic gesture. Ellison is only interested in seeing impeachment proceedings actually becoming a reality.
Stressing that he had not yet seen what specific charges Kucinich is intending to bring up against the Vice President, Ellison, formerly a criminal defense attorney, seemed as committed to guaranteeing the habeas corpus for Cheney that
the Vice President regularly denies others
.
Looking at his blackberry, Ellison said "maybe I'll give Dennis a call this weekend".
Noting that he has an activist's heart, when asked what efforts and strategies in support of impeachment might be most effective, Ellison suggested ...
(Read More)