'All that is necessary for the triumph of evil is that good men do nothing'
The following describes Impeach for Peace's (IfP) attempt to encourage Rep. Betty McCollum to sign H. Res. 333 calling on the impeachment of Richard B. Cheney. Specifically, this describes my attempt to pressure her congressional district to pass a resolution calling on Rep. McCollum to co-sign 333.
This event is yet another example of what is wrong with the Democratic Party. The Democrats have shown over and over again how they are unwilling to stand up for what is right. I could blame it on their fear of what right wing media might think. I could blame it in this case on "Minnesota nice."
I could blame it on their pursuit of the politically moderate vote (although this assumes that the politically moderate and the right wing media don't favor accountability). Whatever their reason, the result is behaving exactly how the current Republican Party would have them act. Voters on the left side of the spectrum see those who are part of the Democratic machinery as being spineless. And, for whatever reason, those who are part of that machinery don't care, or are unaware of the bold actions they need to take. Their political base, therefore, are not inspired to show up and vote for them -- and who can blame them. Much of the base either fails to vote at all or split the progressive vote by voting for the Green Party. I could accuse J.P. Barone (Chariperson of McCollum's Congressional District) of purposefully leaving the impeachment resolution off the agenda, but there is no way to know. What I do know is that J.P. Barone is part of the problem. He is obviously more interested in supporting the Democratic Party than supporting the needs of the people that Party is supposed the represent. His actions subsequently accomplish neither. Somehow when people become part of the Democratic machinery, they lose sight of where their allegiance should lie. I am not sure what the solution to this is, but, at least for my part, it's holding them accountable.
Let's start back in June when DFL (Democratic Farm Labor, i.e., Democratic Party Minnesota)
5th Congressional District nearly unanimously voted on a similar resolution calling on their Representative, Keith Ellison, to sign 333
. Subsequent to the passage of that resolution,
Rep. Ellison did co-sign 333
. This encouraged me to attempt to replicate our success in my own district. Granted, we should not have to go to such lengths to get our representatives to honor their oaths of office.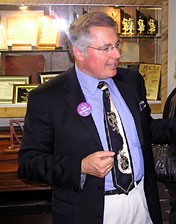 So I wrote an e-mail to the chairperson of the DFL 4th Congressional District, J.P. Barone. He informed me that guests were welcome to speak at their executive committee meetings, and the next one was on August 21, 2007. Many members of Impeach for Peace came to the meeting in support of
the resolutions that I had created
. I presented
the resolutions
and gave a speech about the need for local action, given the lack of oversight of the Bush administration being conducted at the national and state level.
I told them how the 5th Congressional District had passed a similar resolution
. I also noted that there exists a
majority support in the nation and 76% support among Democrats
. After I was done with my presentation, J.P. Barone immediately expressed his lack of interest in passing such a resolution. He expressed concern over whether their committee had jurisdiction and also whether the 4th Congressional District should be passing this type of resolution, given his view that the 4th Congressional Districts function is to act as a cheerleader for the Democratic candidates. His last area of concern was whether or not passing such a resolution would be strategic in getting Democratic candidates elected in 2008. He did concede that there is little doubt in his mind as to the existence of impeachable offenses. What followed was a debate amongst the committee members primarily around whether or not they had jurisdiction to pass such a resolution. They suggested waiting until January and starting from square one with the caucus process. I expressed that, "Rome was burning," and that the situation demanded more immediate action. I also suggested that the super majority support among Democrats empowered them to act on their behalf. Ultimately, when they voted whether or not to consider the measure themselves or to refer the resolution to the larger central committee, they voted against considering it but to have the central committee consider it in September. The central committee meeting comprises a larger group of members than the executive committee.
September 17, 2007, I arrived at the central committee meeting (of which J.P. Barone is also Chair). I again gave my presentation, and J.P. Barone mentioned his reasons why the resolution might not be appropriate. Once again, a debate among the members ensued with similar arguments as in the executive committee meeting. One of the members who was more familiar with procedure assured the committee that they did indeed have jurisdiction to pass such a resolution and also expressed a belief that it is the committee's responsibility to pressure their representative on issues. While people fell on various sides of the issue, one concern that came up during the debate was that the resolution had not been listed in the agenda for the meeting. It was expressed by a member that, had it been listed, many members who were not present may have shown up. Another member remarked that it was not IfP's fault that the resolution had not been on the agenda since I had gone to the trouble of passing it by the executive committee the previous month, and that the resolution should not pay the consequence for this failure. The secretary spoke out defending himself, stating that he had sent out the agenda, but that his role is to pass along the agenda as given to him by the Chairperson, J.P. Barone. At this point, J.P. Barone admitted that he had not put it in the agenda but dismissed the inaction as an oversight. When it came down to the vote, they decided to first vote on whether their committee wished to consider the matter at all. The vote was nine members in favor, nineteen members opposed and three abstaining. It was revealed after the vote that at least two of the members had voted against the resolution because it had not been on the agenda. I also do not know how many members may have shown up to vote had they been informed by the agenda of this topic's consideration. I asked J.P. Barone if the measure could be reconsidered at the next meeting, given its failure to appear on the agenda. Despite his firm insistence that a parliamentary procedure be strictly followed up until this point, J.P. Barone unilaterally decided, "No, it had already been voted on."
Now, despite my efforts, I am forced to live in a district that has become complicit in the crimes of the Bush administration. However, my pursuit in getting Rep. Betty McCollum to sign H. Res. 333 is not over.
Stay tuned
.
Jodin Morey
Cofounder, Impeach for Peace