Friday, May 18, 2007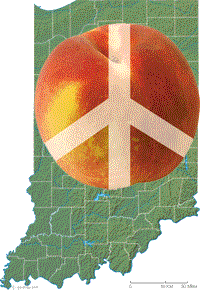 A new chapter of
Impeach for Peace
is forming in Indiana. Wish to join the movement?
Contact this chapter and let them know you're interested in taking action!
Posted by

Jodin
at 9:47 AM
2 comments:


From Michael Cavlan, Green Party Candidate for U.S. Senate from Minnesota (IfP does not endorse any political candidates running for office).
-----------------
IFPer's,
This is a copy of the email currently being posted on a variety of Green Party listserves. The national and Minnesota Green Parties have passed resolutions calling for Cheney and Bush's Impeachment.
Greens are now contacting Cam Gordon to carry forward a Resolution for Impeachment to the Minneapolis City Council, thereby reflecting the will of the Green party membership in Minnesota.
Cam's office phone # contact and e-mail are included. Please feel fee to contact Councilmember Cam Gordon yourself and have friends and allies also contact him on this issue.
Feel free to spread [this] around and have as many people contact him as possible. Minneapolis residents preferably and constituents of Ward Two (Riverside, Seward) would be preferable. If you have any contacts in the Somali community, that would be nice. I will work on my contacts.
Thank You
Michael Cavlan
Mineapolis Minnesota
--------------------------------------------------
Greens for impeachment,
The discussion for impeachment is appreciated and I also advocate that Cam Gordon submit a resolution for impeachment to the Mpls City Council. Unfortunately our opinions on some listserver may not be enough and we need to contact Cam directly to insist that he represent the Greens on this issue. Note that the GP at the national level supports impeachment (
http://www.gp.org
) as does now the GP state level who recently passed a resolution on this (exact wording below):
Impeachment of Bush-Cheney:
Be it resolved that the Green Party of Minnesota calls for the impeachment of President George Bush and Vice President Dick Cheney.
Spread Cam's contact info to all of the impeachment groups and other Greens and progressives who may want to help "lobby" Cam. Afterall, we supported him financially and with volunteer efforts to help him get elected and now we want him to represent US on a grassroots level. Time to blaze the trail and get this on the council's agenda.
---------------------------------------------------
Cam's Contact info:
Cam.Gordon@ci.minneapolis.mn.us
612-673-2202
Posted by

Jodin
at 9:46 AM
1 comment:


Tuesday, May 01, 2007
Presidential Candidate Mike Gravel Supports Impeachment
I had the privilege of meeting
Presidential candidate and former Alaskan Senator Mike Gravel
at the
National Impeachment Summit
in New York earlier this year. At that time, he was considering his position on impeachment, and his campaign said they would inform me of his position as it was formulated.
Today, I spoke with Gravel's Press Secretary and received a statement. He said, "Senator Gravel does support impeachment in the event that any wrongdoing has occurred at the executive level of President or Vice President. At this time the senator's focus is firmly on the Iraq war, stopping the torture, and bringing the troops home now."
Gravel's position is further clarified by this statement from his
campaign's website
, "Senator Gravel supports a congressional inquiry into whether or not George Bush has indeed overstepped his authority as president and broken the law. The inquiry would focus on the accumulation of any and all evidence that indicates wrongdoing and could then be used in criminal proceedings against the president."
These statements were made despite his failure, during the recent presidential debate, to raise his hand when asked if he or any of the other presidential candidates were "willing to enter into Congressman Kucinich's effort to impeach Vice President Cheney."
George Bush and Condoleezza Rice have stated that they will ignore the Congress regarding the war, and that they plan on remaining in Iraq through their term in office. Also, historically it's been shown that a President can find funds for war despite a lack of designated war funding from Congress. It's Impeach for Peace's position that in light of these facts, the only path towards brining our troops home is through the accountability that is impeachment. So, I applaud Gravel's statements in support of impeachment, and hope that his focus on bringing the troops home leads him to become an even louder proponent of peace through justice.
Mike Gravel's Campaign Website can be found at:
http://www.gravel2008.us
-Jodin Morey
Co-founder:
Impeach for Peace
Author of the Do-It-Yourself Impeachment
Posted by

Jodin
at 10:15 PM
No comments: