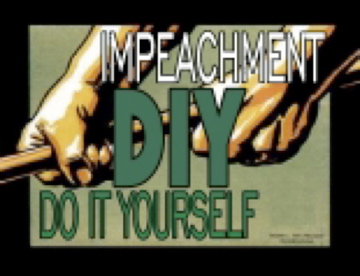 In a meeting Thursday, July 26th, 2007, members of
ImpeachForPeace.org
and After Downing Street met with Congressman Dennis Kucinich in his Washington DC office to present the Congressman with thousands of "Do It Yourself Impeachments" collected over the past few months. DIY Impeachment Memorials are actually a little known and rarely used part of the Rules of the House of Representatives ("Jefferson's Manual"), which empowers individual citizens to initiate the impeachment against any federal official themselves. These Memorials support the impeachment of Vice President Dick Cheney.  
During our meeting, Congressman Kucinich agreed to place all signers of the DIY Impeachment Memorials specifically referencing Cheney into the Congressional record. Rep. Kucinich also agreed to enter into the record the names of signers of regular petitions to impeach Cheney. Because there is a limit to the number of pages that a representative can submit to the Congressional Record each day, Rep. Kucinich stated he will continue to submit petitions every day until all the names are submitted. The most powerful statement for impeachment is the submission of a Memorial, however, so if you have not yet sent a Memorial for the impeachment of Vice President Cheney to ImpeachForPeace.org, please do so! Go to
http://impeachforpeace.org/ImpeachNow.html
and download the Memorial. Then send it to the address listed on the cover letter.
"Jefferson's Manual" is an interpretive guide to parliamentary procedure, and is included (along with the Constitution) in the bound volumes of the Rules of the House of Representatives. It is ratified by each congress (including the current one), and has been updated continuously through the history of our democracy. The section covering impeachment lists the acceptable vehicles for bringing impeachment motions to the floor of the House.  
Before the House Judiciary Committee can put together the Articles of Impeachment, someone must initiate the impeachment procedure. Most often, this occurs when members of the House pass a resolution. Another method outlined in the manual, however, is for individual citizens to submit a memorial for impeachment.
Since then, Kucinich held a press conference informing the public of this.
Enter your name into the Congressional Record
For more on the DIY Impeachment process, see this YouTube video